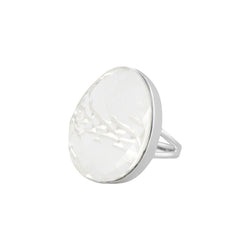 Strength Ring- Clarity in Silver
Bringing a unique ability to amplify energy, Rock Quartz is said to enhance clarity and calmness in its wearer. A crystal-clear Quartz stone of substantial size is set in a sterling bezel, creating a stunning statement ring you won't want to take off. 
Sterling Silver
Stone 1 1/8" x 3/4"
Made In: Jaipur, India
SKU: 70049

Please note all sale product is final sale and not eligible for exchange or return.